(TORn) Just when you think your fandom has run out of Middle-earth related pants, along comes Bakshi Productions with something fresh.
For those of you who don't know — hopefully none of you — Ralph Bakshi was the director of the 1978 animated "Lord of the Rings" that was both an introduction to many of us into the realm of Middle-earth and was seemingly influential into Peter Jackson's film trilogy.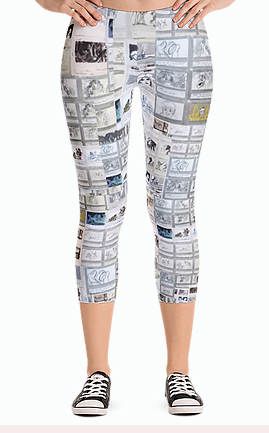 Bakshi did a number of other projects in film, but "Lord of the Rings" remains as one of the works he will always be remembered for.
And now you can wear his storyboards for the film on your own body, a unique clothing item in pop-culture and LOTR history.
They are described like this on the order page:
"We are so friggin excited about thes LOTR capris. Designed from the Bakshi approved original storyboards used in the creation of Bakshi's animated classic Lord of the Rings. These are the ONLY capris like this in the world – AND the only place to ever get them. This is a first printing and will change storyboards when the time comes!"
There is also a shirt.
You can browse the pants here, and the shirt right here.
Do the message boards still have pants threads? If not, time to start one.