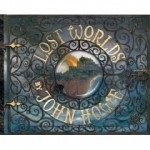 The folks at Kingfisher Books Ltd have sent along a copy of 'Lost Worlds by John Howe' to review. Check this space soon!
Book Description
"Lost Worlds" draws together John Howe's incredible artwork with a wealth of historical facts and mythological texts to create a visually stunning, classic title. This unique children's book is a first for John Howe. It is a project which fascinates him entirely, so much so that this is the first subject he has committed himself to write about.
A visually stunning look at ancient historical cities, hidden kingdoms and legendary realms, this book draws together facts and mythologies about some of the most captivating places on earth and in the imagination. Babylon, Atlantis, Pompeii, Hollow Earth–real-world places are shown alongside fantastical settings. With an eye-catching, clear plastic window on the cover and a foreword by Sir Ian McKellen, this gift book would be any fantasy reader's dream.