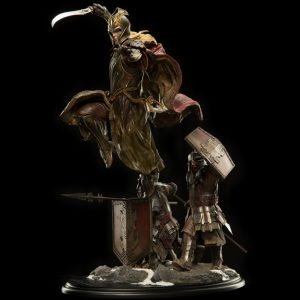 Over the weekend, our friends at Weta Workshop surprised us with not one but two pre-orders. Not only was this out of the blue, but it's also a very special kind of pre-order.
One of the coolest moments from The Hobbit: The Battle of the Five Armies was during the fight sequence at the end of the film, when elves and dwarves join together. Fans can now add this to their collection, in either the Mirkwoord Elf statue or the Dwarf Soldiers of the Iron Hills statue. Both statues come in an edition size of 750 pieces, with a price tag of $449 (USD).
If you're so inclined, you can order a special Elf and Dwarves two pack, which includes both statues with matching numbers (for numbers 2 through 150). What makes this two pack so special is that you can remove the elf from its base, and place it on one of the dwarves' shoulders, to recreate the jumping scene from the movie. The two pack comes in at $898 (USD), and is part of the 750 edition size of each piece. I would 'jump' on this unique two pack now, and make space on your shelf for them in August of this year. You do not want to miss one of Weta's most unique statue ideas!