It's that time of year again, time for all good Hobbits, Elves, Dwarves, Wizards and assorted denizens of Middle-earth to gather and make merry to help celebrate the birthdays of Bilbo and Frodo Baggins.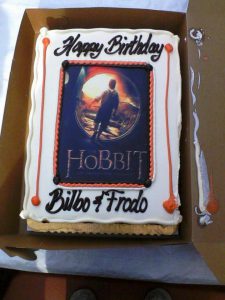 Southern California Tolkien fans are invited to join in the merriment of TORN's Annual Baggins Birthday Bash, which will take place on Sunday, Sept 22, 2019 starting at noon in Griffith Park in the Mineral Wells area. If you need help finding this location, look at the Directions below and at the Map, which clearly shows Mineral Wells near the Harding Golf Course. We will be celebrating the Birthday of both Bilbo and Frodo Baggins, and rejoice in each other's fellowship.
COSTUMES are encouraged, and we may have a prize or two for the most beautifully or most creatively attired lads and ladies. There will also be fun and games and plenty of food.
BIRTHDAY CAKE(S) – We invite you all to get your creative baking going on and bring Middle-earth themed Cakes and/or cupcakes . This will actually be a Juried event with a prize for the Cake or Cupcakes deemed the most Beautiful or Whimsical, or maybe just most delicious looking.
The picnic is potluck so bring something to share. RSVP by leaving a note on our FB event page here or send an email to Garfeimao@theonering.net. Please let us know what you plan to bring so we can make sure we've got all bases covered for a good, Hobbity meal. The food list will be updated with what people are bringing so everyone can see what's coming and what is still needed. Please read the full Info text for the Party for the food list, schedule of events and suggested driving instructions.