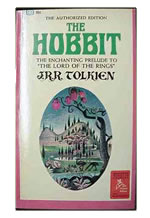 AP – Elizabeth Jones, "Betty," Ballantine, passed away on Tuesday, February 12 at her home in Bearsmouth, New York. She was 99 years old. Together with her husband, Ian, who passed away in 1995, they Founded Bantam Books and Ballantine Books, expanding and mainstreaming the market for paperback books in the U.S. Of course, the name 'Ballantine Books' is near and dear to readers of J.R.R. Tolkien. What lover of Tolkien's books doesn't have several beloved, dog-eared Ballantine editions of "The Hobbit" and/or "The Lord of the Rings" on their bookshelves?
Ballantine was just 20 and attending school in England, in 1939, when she met and married 23-year-old Ian Ballantine. Soon after marrying, Ian and Betty traveled by ship back to his native New York. They established the U.S. division of Penguin Books, and worked out of their apartment. In 1945, they founded Bantam Books, then part of Grosset & Dunlap, and went into business for themselves seven years later with Ballantine Books.
Charging as little as a quarter, they published everything from reprints of Mark Twain novels to paperbacks of contemporary best-sellers. They helped established the paperback market for science fiction, Westerns and other genres, releasing original works and reprints by J.R.R. Tolkien, Arthur C. Clarke and H.P. Lovecraft, among others.
One day, a switchboard operator at Ballantine who had been reading a hardcover edition of Tolkien's "The Hobbit" recommended it to the Ballantines. They offered Tolkien's publisher, Houghton Mifflin, $2,500 each for paperback rights to "The Hobbit" and the three "Lord of the Rings" novels. Houghton Mifflin initially declined, but reconsidered when pirated editions began appearing. Rights were granted to Ballantine, which on the back of the books printed a note from Tolkien himself: "This paperback edition, and no other, has been published with my consent and co-operation. Those who approve of courtesy (at least) to living authors will purchase it and no other." Bookstores and readers, meanwhile, boycotted unauthorized texts.
"The whole science fiction fraternity got behind the book; this was their meat and drink," Betty Ballantine recalled, according to Al Silverman's "The Time of Their Lives," a publishing history which came out in 2008.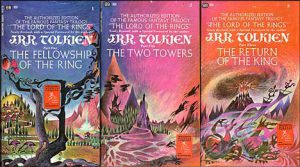 The Ballantines sold their company in the late 1960s, and ended up working at what is now Penguin Random House. While still owners of Ballantine Books, they also published the classic 3-volume edition of "The Lord of the Rings" with cover illustrations by Barbara Remington. Though Ballantine Books went on to publish several other editions of "The Hobbit" and "The Lord of the Rings," these first Ballantine paperback editions remain beloved by those who still have them, and coveted by collectors who don't.
The TORN family offers our condolences to the Ballantine family and friends, and would like to thank Betty and Ian for being the visionaries they were, and for bringing Tolkien's works to us in affordable, enjoyable style for decades!
A fun fact: while researching editions of Tolkien's books published by Ballantine Books, we learned at the Tolkien Gateway site that the cover of the first Ballantine paperback edition of "The Hobbit," published in 1965, was revised in 1966 to airbrush out the lion in the lower left corner. This was done at the request of J.R.R. Tolkien who didn't like the lion on the cover because there were no lions in the story. Compare the covers below, and let us know how many editions of "The Hobbit" and "The Lord of the Rings" you have in your collections.