J.R.R. Tolkien's The Lord of the Rings is in the running as America's favorite book! Tolkien will be featured as part of an episode called "Other Worlds" in PBS's series, The Great American Read.
Tune in: October 16th on PBS. Check your local listings here.
Our very own Happy Hobbits, Kili and Fili (Kellie and Alex Rice) were asked to participate in the episode. The producers were excited to showcase two creative young women as Tolkien fans to demonstrate that Fantasy hasn't been a "boys only club" for a long time. Unfortunately, their interview was cut for time, however there may still be a snippet of the sisters asking the audience to vote for Lord of the Rings as America's favorite book.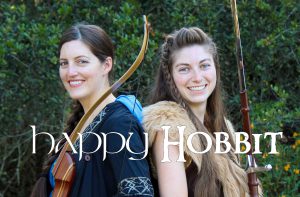 If you're bummed that you won't get to see TORn staff members on the show, don't worry! Happy Hobbit will upload the interview they filmed for PBS and post it on their YouTube channel the same day the episode airs.
But what is the program itself about? Here is the summary from The Great American Read website:
THE GREAT AMERICAN READ is an eight-part series that explores and celebrates the power of reading, told through the prism of America's 100 best-loved novels (as chosen in a national survey)*.  It investigates how and why writers create their fictional worlds, how we as readers are affected by these stories, and what these 100 different books have to say about our diverse nation and our shared human experience.

The television series features entertaining and informative documentary segments, with compelling testimonials from celebrities, authors, notable Americans and book lovers across the country. It is comprised of a two-hour launch episode in which the list of 100 books is revealed, five one-hour theme episodes that examine concepts common to groups of books on the list, and a finale, in which the results are announced of a nationwide vote to choose America's best-loved book.

The series is the centerpiece of an ambitious multi-platform digital, educational and community outreach campaign, designed to get the country reading and passionately talking about books.

*PBS does not endorse any titles on the top 100 list. For more information on how these titles were selected, please see our FAQs.
Be sure to tune in to watch and don't forget to vote for Tolkien here!