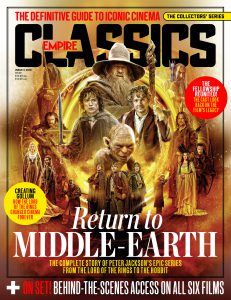 TOR.n received an exclusive announcement today from Empire -the worlds biggest movie magazine- that they will be publishing a special edition on The Lord of the Rings and The Hobbit trilogies, due out next week!  Per Empire: "It's a comprehensive look at all six films using both our archive on-set material and new features. It also features some of the reunions we've made happen over the years".
This will be a print-only edition, and not available as a digital download.
Empire Classics: Return to Middle-earth will be available for purchase world-wide starting Tuesday morning (UK time), 31st July from Great Magazines UK
A note on shipping:  "If you have purchased one of our print magazine specials or single issues your purchase will be processed and delivered within 1-3 days for orders within the UK and up to 10 days for orders outside of the UK. In most cases we will deliver your item much quicker but have allowed for bank holidays and weekends."
For more on what you can expect to see, check out the video below!