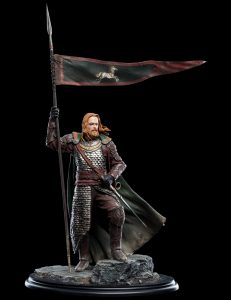 A couple of surprise announcements came our way this week from our friends at Weta Workshop.
If, like me, you're a fan of the Rohirrim culture then this announcement is going to be something to make you smile. Fans can now add a statue of Gamling who during The Lord of the Rings: The Two Towers showed himself to be a loyal solider to King Theoden. Gamling did not travel alone though — fans can also add the Royal Guard of Rohan who we first meet as Aragorn, Gandalf the White, Gimli, and Legolas try to enter The Golden Hall.
Both statues are expertly detailed and have some awesome looking paint apps.
You will not want to wait on ordering either of these pieces as they both have edition sizes of only 375 pieces and have price tags of $399. They're not due out until the end of the year so after you order them come chat with us about it on the TORn Collectors Club.