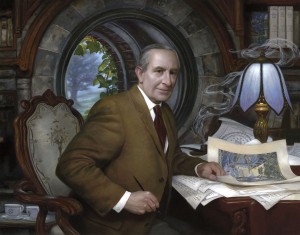 Help celebrate and mark J.R.R. Tolkien's twelfty-sixth (126th) birthday by joining fans all over the world in The Tolkien Society's annual Birthday Toast.
Tolkein was born on this day in 1892 in Bloemfontein, South Africa. On this day, you might read a favorite passage or two from Tolkien's writings or you can raise a glass to our beloved author and creator of Middle-earth at 9pm (your local time). The toast is simply to: "The Professor!"
Share your toast on Twitter or Facebook using the hashtag #TolkienBirthdayToast. However you celebrate, we hope you join TORn as we wholeheartedly wish a happy birthday to "The Professor," who's life's work has come to mean so much to all of us. Happy birthday, J.R.R. Tolkien!