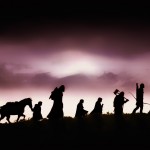 Check your calendars. This is not, I repeat NOT one of our famous (or infamous) TORn April fools jokes. Variety broke the story tonight that Warner Bros. is in talks with Amazon to develop a series based on J.R.R. Tolkien's Lord of the Rings novels! According to Variety, Amazon CEO Jeff Bezos is personally involved in the negotiations, which are still in the very early stages.
From Variety: The studio and the Tolkien estate have been shopping a series based on the classic fantasy novels and their assortment of hobbits, wizards, and warriors, sparking a competitive situation from which Amazon has emerged as the frontrunner. Representatives for Amazon and Warner Bros. declined to comment.
Needless to say, this is far earlier than any of us thought we might see a remake of Tolkien's classic story and, although early days, it seems to present an opportunity for the story to be told in more detail with fewer cuts (perhaps a lifeline for the Bombadil and Scouring of the Shire fans amongst us). Even better, it presents the prospect of another blessedly fun round of endless preliminary casting, location, music, and CGI theories that we haven't seen in (can it really be) almost 20 years.
On the flip side, the Variety story mentions the Tolkien Estate being involved. However, the rights to produce movies from The Lord of the Rings  books is currently held by the Saul Zaentz Company, dba Middle-earth Enterprises. This could mean that Middle-earth Enterprises is also involved, or it could mean that what's being shopped around are Tolkien stories outside of the realm of The Lord of the Rings trilogy. For more news, stay tuned here at TORn as we follow the progress, and Read more now at Variety.com.