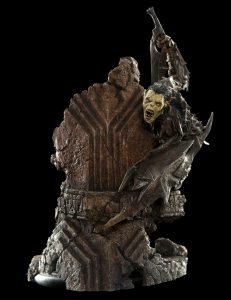 If space in your collection is at a premium then the mini line of statues from our friends at Weta Workshop has to be one of your go to lines. These great statues carry all the detail you expect from Weta Workshop but are scaled down into a smaller statue.
Tonight we get a new statue joining the line, this time from the bad guy side of Middle-earth. As the Fellowship made its way through Moria, Pippin set off a series of events and The Fellowship would have to face off against the Orcs of Moria. The Moria Orc mini depicts this Orc crawling on one of the beautiful pillars in Moria.
Fans who want to add this Orc can do so as he is currently in-stock and can be had for $125. Also, as you all know Weta has been running a contest for their uber cool 1:30 Dol Guldur signed by Richard Taylor, Leonard Ellis, and Dave Tremont. This contest has just seven days left and all the questions are now posted. Make sure you enter the 1:30 Dol Guldur Signed Set before it closes August 31st.