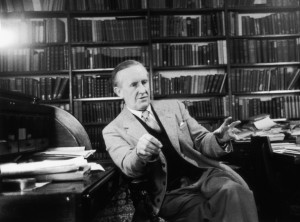 Exciting news for Tolkien fans today as we get further details on the upcoming Tolkien biopic from the Hollywood Reporter. Based on the HR headline, the title is 'Middle Earth.' Is that a bit of Hollywood contextual word play, or do they not realize the proper spelling would be Middle-earth? Time will tell.
The film will be directed by James Strong (Hey, he's directed some Doctor Who episodes) and produced by LOTR trilogy alumni Bob Shaye and Michael Lynne. The script will be written by Angus Fletcher.
Are you excited for this new film? Scared as to what Hollywood might 'change' in an already extraordinary life story? Sound off in the comments below!
From the Hollywood Reporter:
Penned by Angus Fletcher, the film will chart the tumultuous events that inspired him to pen 'Hobbit' and 'Lord of the Rings' trilogies.

James Strong is heading to Middle Earth.

The British director of Broadchurch, Gracepoint and Downton Abbey will helm the biopic about author J.R.R. Tolkien, The Hollywood Reporter has confirmed.

The film — featuring a script by Angus Fletcher, based on six years of interviews and archival research — will chart the tumultuous events that inspired him to pen Hobbit and Lord of the Rings trilogies: when war broke out in 1914, disrupting his Oxford life with his wife Edith Bratt, Tolkien embarked on four years of battle, hardship, and new friendships, which served to shape his imagination and start him on the path to Middle Earth.