Happy Birthday J.R.R. Tolkien!
January 3, 2011

at

9:31 am by Celeborn -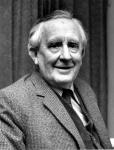 "In a hole in the ground there lived a hobbit."  — J.R.R. Tolkien
John Ronald Reuel Tolkien was born in Bloemfontein, S.A., on January 3, 1892.  He would eventually move to England, become an accomplished linguist and scholar, an Oxford professor and a beloved husband and father. While in his twenties, he began developing a series of stories that went on to become the rich, complex history of a place called Middle-earth: a world that millions would eventually visit, both on the written page and on the big screen, and come to love. TheOneRing.net raises a glass to "The Professor!" today, in honor of all the enjoyment and camaradarie his birth would lead to. Thank you, professor Tolkien!
And don't forget, today is the annual Tolkien Society's Birthday Toast to Professor Tolkien. For complete details on the toast, jump on over to the Tolkien Society's website. [Tolkien Toast]
Posted in Fans, J.R.R. Tolkien, Meet Ups, TheOneRing.net Community, Tolkien, Tolkien Family on January 3, 2011 by Celeborn Happy Birthday J.R.R. Tolkien! | Discuss