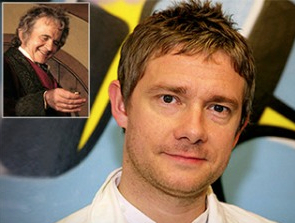 By now, many of us are aware that Martin Freeman was the first choice to play the role of Bilbo Baggins in the upcoming Hobbit films, and as many of us are also aware that he turned down the offer due to scheduling conflicts (though that wasn't the end of the matter!) But there wasn't really any official word from the man himself… until now! Empire Online managed to snag an interview with Freeman on The Hobbit, and for fans in the "Freeman for Bilbo" camp, there seems to be hope yet.
Here follow a couple of snippets from the interview:
"I did have to say no to it [an offer to play Bilbo Baggins in the upcoming Hobbit films] for the second series of Sherlock. But if something could be worked out, that would be great. I did it [turn down the role] with a heavy heart, definitely.

If there is any outside possibility [of finding a way to fit The Hobbit into his schedule], then that would be great. But I've learned not to think too much or hope too much about stuff. It will happen if it happens."
Of interest is Freeman's thoughts on an older actor portraying Bilbo Baggins:
"Bilbo isn't 20 at this stage of the story, and I reckon I could do a young Ian Holm. I think I could give that a go."
Head over to Empire Online to read more of the interview.
Thanks to message board member Silmaril for the heads-up.