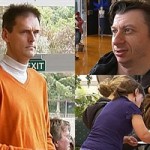 Delayed Peter Jackson movie The Hobbit has shown signs of life with a preliminary casting call in Wellington.
The movie has been held up by the sale of the MGM studio, which owns half of the production.
Budding film stars of all shapes and sizes arrived from around the country.
A preliminary casting call is great news for Wellington's film industry, but it wasn't the happiest of days for some Hobbit hopefuls.