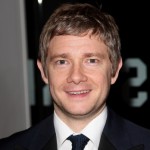 According to the U.K  Sun, Martin Freeman has reluctantly turned down the opportunity to play the coveted part of  Bilbo, (and the associated seven figure salary), due to prior commitments to the BBC series "Sherlock." According to their source:
"It was one of the most difficult decisions of his career. MGM, who are making the film, only got a formal offer over in the last couple of weeks. It was too late for Martin because he had already signed up for another series of Sherlock. It was agonising but he had no other choice."
Thanks to message board member Owain for alerting us to the story.