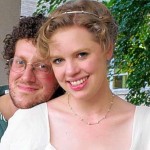 Love can appear in unexpected places.
Elizabeth Henning and John Wolbers found theirs while creating a one hour mini-adaptation of author J.R.R. Tolkien's "Lord of the Rings."
Then they sealed it over cold beer and hot wings.
Henning, 26, and Wolbers, 28, are self-described "huge Tolkien dorks" and theater buffs.