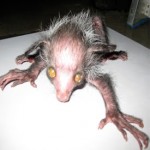 File this under the unusual news of the day (via Monkeyday.org)…
New babies are showing up regularly at the Philadelphia Zoo this year. The latest is the aye-aye, born July 14, joining other recent giraffe and orangutan births.

The aye-aye boy, born to mom Medusa and dad Tolkien, was named Smeagol after his resemblance to the Lord of the Rings character, according to a release by the zoo.

Smeagol already has started to leave the nest box to explore his exhibit at the Zoo's Peco Primate Reserve.
Check out all the pics at MonkeyDay.org.