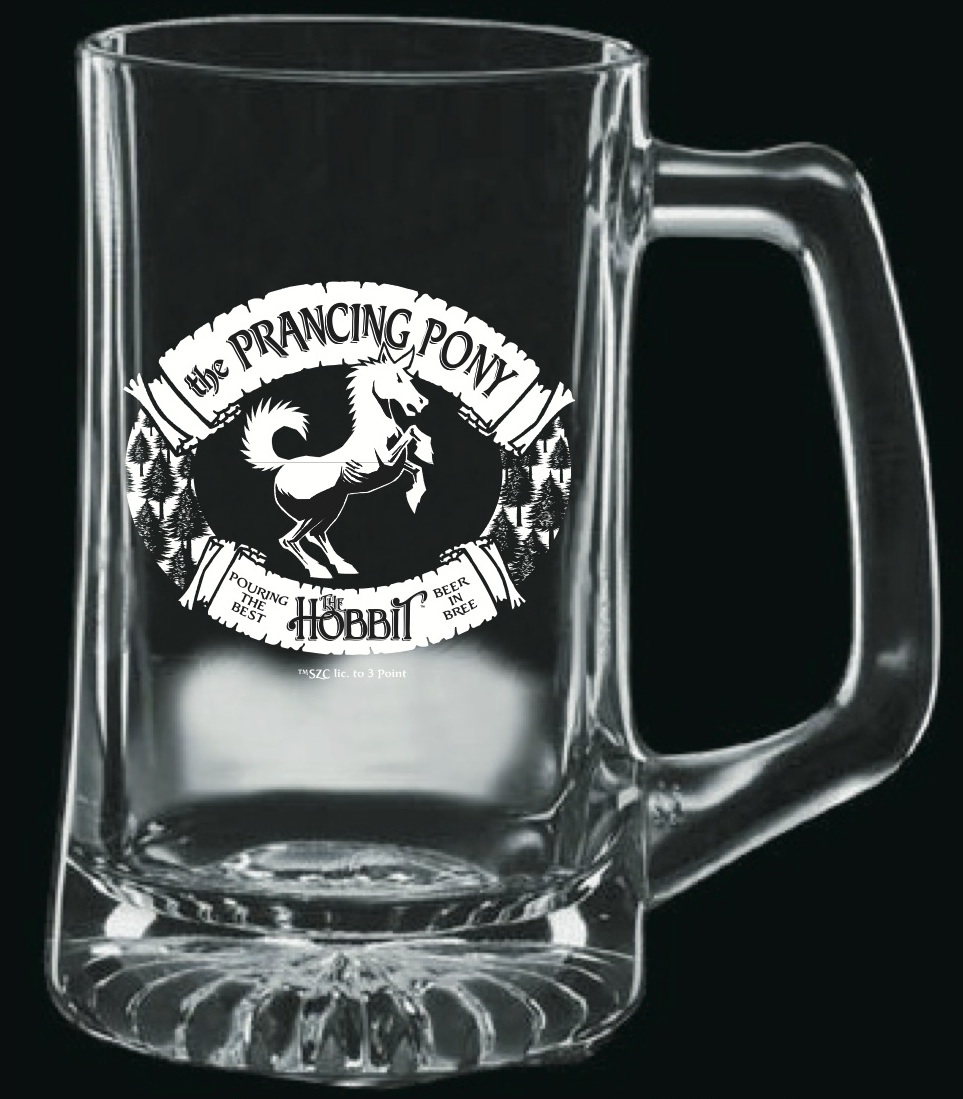 SAN DIEGO, CA (July 7, 2010) – Taverncraft, a subsidiary of 3 Point Entertainment LLC, today announced the debut of a new series of premium-etched glassware based on the literary masterpieces The Hobbit and The Lord of the Rings. Available both as a 16 oz. pint glass and a large 25 oz. glass stein, each high-quality drinking glass is deep-etched with iconic artwork featuring two of the most popular Middle-earth taverns, The Prancing Pony and The Green Dragon. Perfect for everyday use or gift giving, these dishwasher and freezer-safe glasses are available now at hobbitsteins.com for August shipment.
"Through our popular line of stoneware steins, Taverncraft has built a reputation for both product quality and artistic integrity," said 3 Point Entertainment President Jerry Bennington. "Our steins featuring The Hobbit are wonderful collectibles and perfect for special occasions, but we also wanted to add some items for everyday use. These premium-etched glasses maintain that same level of quality but are also ideal for use just hanging out with friends, sipping cold drinks on hot summer nights."
Pint glasses are packaged in 2-glass sets and retail for $29.99 plus shipping and handling. Each 25 oz. glass stein is packaged individually and retails for $29.99 plus shipping and handling. Additional information, images and ordering details are available at hobbitsteins.com.
About Taverncraft
Taverncraft is a subsidiary of 3 Point Entertainment, LLC, a privately held company headquartered in San Diego, California. Dedicated to delivering superior quality drinkware, Taverncraft-branded steins, mugs, and tankards eagerly sought after around the world for their collectability, originality, and functionality. 3 Point Entertainment is a licensee of Blizzard Entertainment (World of Warcraft®) and Electronic Arts (Warhammer Online: Age of Reckoning®). Additional information is available at www.taverncraft.com
About Middle-earth Enterprises
The Saul Zaentz Company d/b/a Middle-earth Enterprises f/k/a Tolkien Enterprises (SZC), is the holder of worldwide motion picture, legitimate stage, merchandising, and other rights in the literary works of J.R.R. Tolkien including The Lord of the Rings and The Hobbit. SZC has been producing and licensing films, stage productions and merchandise based on the works of Mr. Tolkien for more than 30 years. Its headquarters are located in Berkeley, California and its Middle-earth Enterprises' website may be found at www.middleearth.com.