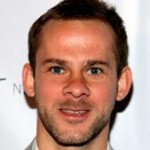 The folks from Team Dominic Monaghan write: We want to make you aware of a group of young, teenage filmmakers that just made a Short Film starring Dominic Monaghan entitled "Gloria." This project was made possible by REESE'S Puffs® Extraordinary Cinema and is part of the largest teen filmmaking program in the nation. The film "Gloria" premieres April 13th and it will be posted online for viewing and voting purposes. It will also appear at the Dallas International FIlm Festival and will be shown On Demand in May.
We are a part of the filmmaking crew who shot "Gloria". The film will be competing against another film for student scholarships. To help show your support for Dominic, would you please spread the word to your fan base about the film and voting? That would be very much appreciated. We need strong supporters to show that Dominic's film will come out on top because he has the most loyal fans.
We will keep you in the loop for more information and specifics. To see exactly what we're about, please visit.
http://www.fresh-films.com/springprogram.htm
Also you can become a fan of our film on Facebook. Last but not least, we also have a Twitter account: @TeamDominic