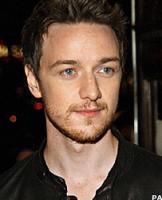 British actor James McAvoy was set to star with Seth Rogan in I'm With Cancer, directed by Jonathan Levine who was behind The Wackness.  But according to MTV, he has now dropped out of this "for personal reasons" and has been replaced by Joseph Gordon-Levitt in the lead.  Rogen released a statement confirming this casting change and explained a bit about what happened.
"It's incredibly unfortunate that circumstances outside of everyone's control have taken James away from the project, but, with James's blessing, we were able to have Joseph step in to take on the [lead] role of Adam. We all look forward to working with James in the future."
FirstShowing.net writes it like this:
Gordon-Levitt is REALLY stepping in last minute, as this had already started shooting up in Vancouver. The production has been temporarily halted and will resume again next week. It looks like McAvoy dropped out part of the way in for some BIG reason – either something personal or maybe he was finally cast as Bilbo in The Hobbit?
This tidbit is sure to raise a few eyebrows from Middle-Earth fans scanning news wires for anything potentially related to filming of The Hobbit.  The initial article is here on MTV.