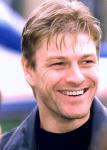 Sean Bean will star in a fantasy series on HBO based on George R. R. Martin's fantasy series "Song of Ice and Fire". Bean plays lead Eddard Stark, head of one of the leading families in the series.
The first book in the series will be the focus of the 10 episodes HBO announced for the first season with a pilot already finished. Martin's series is currently planned for seven books leaving the possibility of making a season per book if the first season is successful for HBO.
The rest of the cast includes: Lena Headey as Cersei Lannister, Nikolaj Coster-Waldau as Jaime Lannister, Peter Dinklage as Tyrion Lannister, Mark Addy as Robert Baratheon and Jason Momoa as Drogo. Other are Jennifer Ehle, Iain Glen and Tamzin Merchant. Reports put production on the series starting in Belfast in June.
Some of the TORn staff are big fans of the books and recommend following winter-is-coming.net
Along with the announcement today, HBO released its first publicity still which can be viewed at WiC.net.