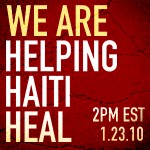 Ethan Gilsdorf writes: Fandom Unites to Help Haiti Heal this Saturday, January 23, in a Live Fundraising Webcast Benefiting Haiti Relief veterans and Partners In Health
Saturday, January 23 at 2pm ET is when fans of all kinds will be coming together to raise money for the victims of the Haiti earthquake. Rooted in the Harry Potter community, the Helping Haiti Heal live fundraising webcast will take placevia Livestream (http://www.thehpalliance.org/haiti), and bring together Harry Potter fans and fans of other blockbuster books, movies, and TV series such as "Heroes," "True Blood," "Mad Men," "The Wire," and "Firefly" for this effort.The four-hour event includes entertainment, performance, interviews, news and more.
During the webcast, performers will laugh, talk and listen while they raise money for Partners in Health, an organization helping those hardest hit by the January 12 earthquake. (Co-founder Paul Farmer was immortalized in Tracy Kidder's book Mountains Beyond Mountains: The Quest of Dr. Paul Farmer, a Man Who Would Cure the World.) The event will also feature a donation drive where donors have the opportunity to receive unique and personalized thank you gifts from donated by prominent musicians, authors, and actors.
Donors have a chance to win the gifts all week long.
Harry Potter author J.K. Rowling has donated a signed, full U.K. edition set of her books, as well as a handwritten card, to Helping Haiti Heal. This extremely rare item joins more than 100 special gifts, including a signed book by author Neil Gaiman, five signed books by Sir Terry Pratchett, original conception art from the film Where the Wild Things Are, and much, much more.
"This community is uniting with other popular and vibrant fan communities to harness the energy of popular culture toward making a genuine difference in Haiti," says Andrew Slack, Executive Director of theHarry Potter Alliance. "We have chosen Partners In Health because they have written the book on addressing poverty in Haiti and will be with Haiti, rebuilding long after the initial effects of this recent earthquake subside."
In addition to the above one-of-a-kind contributions, other items up for auction include:
Signed books fromTimeMagazine'sLev Grossman,NY Timesbestselling authorMelissa Anelli,Movies in 15 MinutesauthorCleolinda Jones, and Urban fantasy novelistLilith Saintcrow, as well as young adult authorsKaren Healey,Aprilynne Pike,Pam Bachorz,Lisa Mantchev, and many more.?
A signed Mega Book Pack of 30 novels from The 2009 Debutantes (http://www.feastofawesome.com/), including: Malindo Lo,Saundra Mitchell, Sarah Ockler, Michelle Zink, and Jackson Pearce.
Guest spots on Potter Cast and Hogwarts Radio.
Signed CDs from such wizard rock bands as The Remus Lupins,The Whomping Willows,The Butterbeer Experience, and Oliver Boyd and the Rememberalls.
Quality replica Light Saber based on Luke's from Star Wars: Return of the Jedi.
Full Access Registration to LeakyCon 2011, valued over $300.
$200 Gift Certificate to Infinitus 2010.
Limited edition, artist signed, Replica Slimer from Ghostbusters.
The fundraising webcast will also feature podcasting personalities from leading Harry Potter podcasts; live performances from many wizard rockers; leaders in fan communities; personal interviews with Haitian-Americans about the importance of giving to Partners In Health; human rights activists; a representative from MIT's Media Lab discussing ways that we can donate our time using new media; and much more.It is the aim of Helping Haiti Heal to provide ideas and inspiration across fandoms to those with the desire to aid those affected by the earthquake.
Together, we all can help heal Haiti. And prove that fantasy can have a real impact on reality.
Helping Haiti Heal is sponsored byThe Harry Potter Alliance (http://www.thehpalliance.org/),The Leaky Cauldron (http://www.leakynews.com/), MuggleNet.com(http://www.mugglenet.com/), HPANA(http://www.hpana.com/), andFictionAlley (http://www.fictionalley.org/).