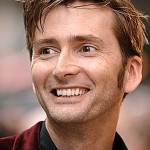 Thanks to Ringer Ryan who sent in a rather interesting find. We have not been able to verify the following statement from Ryan is correct, but we thought with Andy Serkis replacing David Tennant in the upcoming 'Burke and Hare,' it might just be the smallest of hints who could be cast as Bilbo Baggins. Here's what Ryan sent us:
'Simon Pegg wrote on Twitter yesterday "Looks like David Tennant will be visiting Middle Earth"…
He has since…I think…Deleted this post…'
We do know that David Tennant has dropped out of 'Burke and Hare' from another Simon Pegg tweet, that has since been removed, but reported on by the MTV Movie Blog. You can read more about that through the following link. [Read More]
Ah, the wonders of casting rumors! What do you think? Would David Tennant make a good Bilbo? Click on the discuss link below and let your voice be heard!