TAVERNCRAFT ANNOUNCES THE HOBBIT™ AND THE LORD OF THE RINGS™ LICENSE ACQUISITION FOR STEINS AND PREMIUM DRINKWARE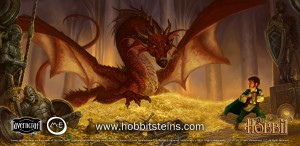 First Release to Feature Smaug™ the Magnificent Stein
SAN DIEGO, CA (November 19, 2009) – Taverncraft, a subsidiary of 3 Point Entertainment LLC, today announced the acquisition of a multi-year worldwide license agreement with Middle Earth Enterprises to produce drinkware based on the fantasy masterpieces The Hobbit and The Lord of the Rings trilogy by J.R.R. Tolkien. License rights include collectible steins, mugs and tankards. Scheduled to debut in early 2010, the first release under the new agreement will be the start of a series of collectible steins based on The Hobbit. The stein series will launch with Smaug the Magnificent, illustrated by premier fantasy artist Matthew Stawicki.
"We are thrilled to be a part of one of the greatest fantasy epics of all time," said 3 Point Entertainment President Jerry Bennington. "We will be capturing some of the most iconic moments and beloved characters in fantasy history with unparalleled quality and originality on our steins, tankards and mugs. Fans of Tolkien's Middle Earth will be incredibly excited when they see our products."
Development on the Smaug the Magnificent stein has already commenced, and fans looking to capture a glimpse of the artwork by Stawicki, as well as early development on the stein, can visit the official website at www.hobbitsteins.com.
Each Taverncraft stein stands over 10" (25.4 cm) tall and is handcrafted from authentic fine-grain stoneware. The steins feature panoramic bas-relief sculpting and a solid pewter lid.
About Taverncraft
Taverncraft, a subsidiary of 3 Point Entertainment, LLC, is a privately held company headquartered in San Diego, California dedicated to delivering superior-quality drinkware. Taverncraft branded steins, mugs and tankards are eagerly sought after around the world for their collectability, originality and functionality. 3 Point Entertainment is a licensee of Blizzard Entertainment (World of Warcraft®) and Lucas Licensing (Star Wars®). Additional information is available at www.taverncraft.com.
About Middle-earth Enterprises
The Saul Zaentz Company d/b/a Middle-earth Enterprises f/k/a Tolkien Enterprises (SZC), is the holder of worldwide motion picture, legitimate stage, merchandising, and other rights in the literary works of J.R.R. Tolkien including The Lord of the Rings and The Hobbit. SZC has been producing and licensing films, stage productions and merchandise based on the works of Mr. Tolkien for more than 30 years. Its headquarters are located in Berkeley, California and its Middle-earth Enterprises' website may be found at www.middleearth.com.