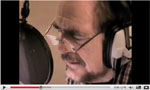 Latauro (via epleterte) from Australia chimed in to Aintitcoolnews today about a potential casting decision in The Hobbit production. Although nothing is sure, Brian Cox seems to be a strong contender to one of the dwarves. And for what my two cents are worth: That'd be awesome! Brian Cox is beyond cool. Here's the excerpt:
This is a news item I'd love to proclaim with all-out certainty, but my tried and trusted source(s) aren't sure if this is a total lock, or whether it's just someone they're seriously interested in. Either way, producers of THE HOBBIT have begun looking at casting for the dwarves (dwarfs?), and one name has emerged as a major contender: Brian Cox. He's a brilliant choice for the role: physically, he fits with the depiction of the the race in LOTR (well, Gimli), and he's a born Scotsman. Also, he could yell at Galadriel for adding narration. So there you go. If this comes to fruition, you heard it here first!
Brian's name has been mentioned before, in April we announced he was voicing he audio version of 'Sigurd and Gudrun'. We also mentioned he was a strong frontrunner in fan casting for Balin.