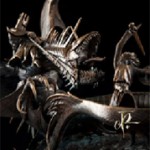 From the folks at WETA: John Howe's incredibly dynamic and exquisitely detailed sculpture by Daniel Cockersell is now available for pre-order in faux bronze. The edition size for this fine art collectible is a mere 300, just like the first sculpture in the range, Smaug™ the Golden which opened for pre-order in August. Check it out here!
You can ask John Howe questions about his new range of sculptural art from Middle-earth on the Weta Forum at the Shadow and Flame. Leave your questions there, and John will join us for a Q&A session soon.
The Red Eye of Sauron Pin
Designed by John Howe for Weta Workshop's crew clothing, the Red Eye of Sauron became an unofficial emblem for Weta during the filming of the trilogy. When in need of a Weta technician, the film crew and cast would look for the symbol of the Red Eye. Our first batch sold out on the first day, but we now have fresh new stock, so please get your orders in! More..
Home, Sweet Hobbit hole!
We have received many requests from fans, friends, customers and staff to create a collectible sculpture of Bag End, from the Lord of the Rings Trilogy. Today we are pleased to confirm this project has started. More..