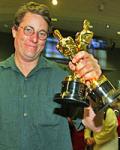 Dinner with Academy award winner Richard Taylor, Weta Workshop – Thursday, 29th October 2009.
Kea (Kiwi Expat Association) is delighted to host an event with Academy award winner and Kiwi,Richard Taylor on Thursday 29th October, a luncheon in Melbourne and dinner in Sydney.
Richard Taylor is the co-founder, co-director and creative director of Weta Workshop based in Wellington. Richard has been awarded five Oscars, four BAFTAs and numerous other achievements for Weta's success in the disciplines of makeup, costume and visual effects.
Weta Workshop's film list includes the Lord of the Rings Trilogy, King Kong, Chronicles of Narnia and Heavenly Creatures. Richard has worked with some of the biggest names in the business and continues to do so on upcoming projects such as Tintin with Steven Spielberg, Avatar with James Cameron, and District 9 with Neill Blomkamp.
"Weta Workshop was started over twenty years ago in the back room of the Wellington flat that I shared with my partner Tania. It was our dream to create a special effects facility to support the New Zealand film and television industry and we have since had the most incredible journey pursuing this goal!", Richard Taylor
Richard doesn't do things in small doses. During the five years it took to make The Lord of the Rings trilogy, Weta hand-made more than 1,000 suits of armour, 2,000 weapons, 48,000 pairs of prosthetic feet and ears, and more than 20,000 individual everyday items.
Guests will be invited to dine with Richard Taylor as he shares insights into his stellar career including:
• how Weta Workshop's success has enhanced trade, opened doors and developed New Zealand's reputation in this market globally;
• the business challenges of making large scale productions, how these challenges were overcome in earlier years and what is easier now given Weta's global reputation; and
• behind the scenes anecdotes and highlights of his stellar career
Lunch – Melbourne
Thursday, 29th October 2009
12.00 pm – 2.00 pm
Zinc Restaurant, Federation
Square, Melbourne
$88 Kea members, $110 Non members,
or $880 for a table
(includes three course meal, wine and
beer, refreshments, networking)
Dinner – Sydney
Thursday, 29th October 2009
6.30 pm – 9.30 pm
Danks Street Depot, 1/2 Danks Street (cnr
Young Street), Waterloo, Sydney
$95 Kea members, $125 Non members,
or $950 for a table
(includes three course meal, wine and beer,
refreshments, networking)
This is a rare opportunity, not to be missed. There are limited numbers so guests are recommended to secure their tickets before it sells out.
TICKETS: Contact KEA Regional Manager – Madeleine Lethaby 0424 578 679 or email madeleine@keanewzealand.com
About KEA
KEA is a not-for-profit organisation with over 25,000 members in more than 170 countries. The KEA network helps New Zealanders and local firms connect with and leverage the knowledge and contacts of the many talented New Zealanders around the world. Kea chapters are located in Los Angeles, San Francisco, New England, New York, Sydney, Melbourne, Brisbane, Shanghai, Toyko, Paris, The Netherlands, Middle East, France and the United Kingdom.
To benefit from the members price join KEA now by visiting www.keanewzealand.com. It's free and joining up will give members direct access to the Kiwi expat community and special events like this.
About Weta Workshop
Weta Workshop is situated in Wellington, a film-friendly city on the lower North Island of New Zealand. Wellington boasts a strong local film industry, where the large proportion of the production process of a multitude of award-winning films have taken place within a 10-mile radius of Weta Workshop, including King Kong and Lord of the Rings Trilogy.
Richard Taylor's Awards
World Class NZ Awards 2009 Supreme Winner World Class NZ Awards
2006 BAFTA AWARD FOR ACHIEVEMENT IN SPECIAL VISUAL EFFECTS
2006 ACADEMY AWARD© FOR ACHIEVEMENT IN VISUAL EFFECTS
2004 ACADEMY AWARD© FOR BEST MAKE-UP
2004 ACADEMY AWARD© FOR BEST COSTUME
NZ Export Awards 2007 Honorary Award
Ernst & Young 2006 Entrepreneur of the Year
Nati Awards 2005 Best Supporting Workshop Weta Workshop and Richard Taylor
Designers Institute of NZ Design Awards 2004 John Britten Award
City of Wellington 2002 (June) Proclamation (Key to the City) Richard Taylor and Tania Rodger
Sir Julius Vogel Award 2002 Services to Science Fiction and Fantasy Weta Workshop and Weta Digital
The Evening Post 2001 Wellingtonian of the Year