SAN DIEGO – The 2009 edition of the Comic-Con is over but its impact is just being felt as major news outlets around the world try to capture the impact and look through the window it provides into the future of popular culture and entertainment.
There are a lot of big-name franchises coming down the pipeline. Here are some highlights from the convention.

James Cameron's "Avatar": Weta helped nail the special effects that were revealed for the first time when a full 25-minutes of footage was revealed. Cameron (Aliens, Terminator, Titanic, True Lies) after a feature film break of more than a decade, jumped back into the movie with with both feet. Will his genuine sci-fi effort with blue skinned avatars wow the world or has he been gone too long?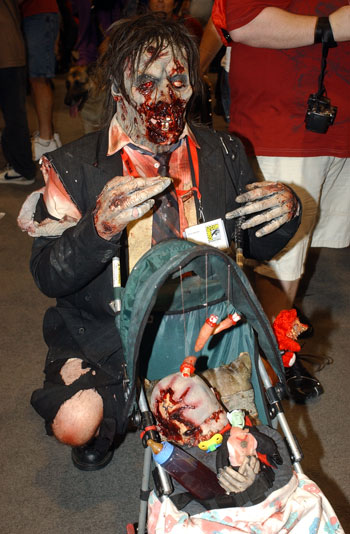 District 9: When the "Halo" movie fell over, Jackson moved first-time director Neil Blomkamp onto this project that features aliens living in the slums of Johannesburg. The crowd at the screening went crazy for the film. Can this smart, dark hybrid movie without a recognizable actor clean house with critics and at the box office? Probably.

Television rules! What happened to the home of movies and comics? It got invaded by the television. "Lost," (including Dominic Monaghan) "V," "Fringe," "True Blood," "Myth Busters," "Torchwood," "Supernatural," "Smallville," and many others brought cast, clips and crew to impact programming.

"Iron Man 2:" What makes this the most anticipated superhero movie in any stage of production? Johnny Depp, John Favrau, Gwyneth Paltrow, Don Cheadle or a character that works on screen or maybe a combination of them all? Whatever it is, it owns the consciousness of geeks everywhere.
Jackson and Cameron: Was there a better panel this year or any year than hearing two masters of the film medium chatting in an expertly moderated format? It was so good they let it run over almost 45 minutes. With Jackson's plethora of projects lined up, we may not see him back here for a long time. Richard Taylor who was kind enough to join TheOneRing.net panel will also be similarly unavailable for years working on "The Hobbit."
"Twilight," is pretty popular.
There was a lot more of course, and everybody has a different experience, but that is some of what we heard getting the top buzz. Care for a photo from the convention floor? More to come.