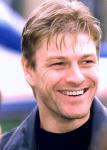 Sean Bean of J.R.R. Tolkien's Boromir fame, may have landed a role in another book adaptation by an "R.R." author according to The excellent site WinterIsComing.
The first of George R.R. Martin's "Song Of Fire And Ice" series, "A Game of Thrones," is currently in pre-production to film a pilot episode for a potential HBO series and Bean's name has surfaced as one of the main leads in the series.
Bean, if the rumors are true, would be the second principal cast, along with Peter Dinklage who plays a dwarf (not in the Middle-earth tradition). Going against his type when he is often cast as a villain, his character of Ed Stark is noble and highly principled. The plan for the series is to film the pilot in Ireland and then wait while HBO decides if the will order the rest of a ten-episode first season.