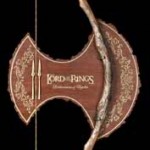 The folks at hollywood-collectibles.com sent along a link to their exclusive 1:1 scale replica of Legolas' bow. From the website: An Elven prince from the forest kingdom of Mirkwood, Legolas Greenleaf joined the Fellowship of the Ring as a representative of his people, vowing to protect Frodo through the power of his mighty bow.
In Lothlorien, Galadriel gave gifts to all the fellowship, including a new bow and arrows to Legolas – his Lothlorien bow. This bow has an ornate Elven leaf pattern which twists around its body, and its string is blessed with a strand of golden hair from Lady Galadriel herself.
We are very proud to present our officially licensed Lothlorien Bow Of Legolas! This amazing replica is molded directly from a screenused Lothlorien bow, and captures all of the intricate detail it possesses.
Measuring an imposing 66" in length, this museum quality piece comes complete with a themed wall display plaque, and is accurate to the finest detail, including the strand of Galadriel's golden "hair" running through the string!
This HCG Exclusive version features 2 detachable arrow heads that are molded directly from screenused originals!
Constructed from metal they are approx 6" long and are held in place on the wall display plaque with internal concealed magnets.