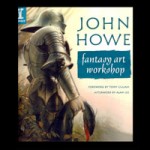 Weta is pleased to host one of the world's most acclaimed Tolkien illustrators and designers, John Howe, for a book signing at the Weta Cave. Currently visiting Weta Workshop, John Howe was of course also one of the principal designers on Peter Jackson's The Lord Of The Rings. John Howe will be signing two of his fantastic volumes and a postcard.
Forging Dragons – create your own Smaug. Foreword by Guillermo del Toro.
Fantasy Art Workshop – Practical art book. Foreword by Terry Gilliam.
An art postcard by John Howe
For a biograpgy of John Howe, please check out his website: www.john-howe.com
When? Saturday 16 May 1-3 pm
Where? The Weta Cave, Cnr Camperdown Rd and Weka St , Miramar, Wellington
Entrance is free and you should take the opportunity to explore the rest of the Weta Cave at the same time.
About the books
John Howe Fantasy Art Workshop is John Howe's first ever practical art book, presenting a wide selection of his work, practical demonstrations and a foreword by Terry Gilliam.
"Here's how I do it, and why": this is the premise behind John Howe's practical exploration of his artistic inspirations, approaches and techniques. Perfect for practical artists and fans of John Howe's work, this book provides step-by- step demonstrations, sketches and finished paintings, some of which were designed specifically for this book.
The book covers a wide range of subjects essential to any aspiring fantasy artist, including materials and the creative process, as well as drawing and painting humans, beasts, landscapes and architecture. Readers will also find further inspiration and guidance on presenting work in various forms including film work, book covers and advertising.
Forging Dragons – This book is considered an "art techniques" volume but non-artists will find it just as valuable and enjoyable. It is visually beautiful, full of Howe pieces that illustrate a point and create the visions of other worlds that fans so appreciate.
The current rock star among winged reptilians is Tolkien's own Smaug. Since this conversational and diabolical beast will hit the silver screen to much acclaim, and since his literary power created the measuring stick for other dragons to this day, he deserves the several pages he is given. Howe's imaginings will once again become greatly anticipated live-action cinema when Guillermo del Toro and the Weta team bring his art to life.
The book is rich with color and the folks at Impact Books were wise enough to include plenty of two-page spreads that let the art speak for itself. Howe the artist is widely beloved but Howe the author is praiseworthy as well.
For more information, please contact Anna Willett or Magnus Hjert:
Anna.willett@wetanz.co.nz or magnus@wetanz.co.nz
Or call +64 4 388 8646
Website: www.wetaNZ.com