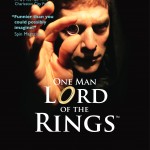 TheOneRing.net readers are being offered free tickets to see an amazing bit of LOTR theater this weekend in the San Francisco area of California.
TORn friend Charles Ross absolutely slayed audiences at our own OneRingConvention (ORC) a few years ago with his outstanding and hilarious "One Man Lord of the Rings."
We loved the show before and after ORC and he wrote us to say that he is performing it again for two nights and would love to offer, while supplies last, FREE tickets to TORnados who can make it to the Zeum Theatre in Berkley this Friday (April 10) and Saturday (April 11) at 8 p.m.. Read inside for full details.
This is the show that Ian McKellen famously praised by saying, "If you liked the Lord of the Rings trilogy, you'll love Charlie Ross's version – and if u didn't, well at least his is shorter." His one hour version of the LOTR trilogy gets my highest personal recommendation and getting the tickets is easy and painless but only while supplies last. Making the trip to the area is definitely worth the effort.
Simply write OMLOTR@gmail.com and request up to six tickets if you know you can attend the show. Your e-mail response will confirm that you have tickets or tell you if they have all been spoken for.
If you go . . .
WHAT: One Man Lord of the Rings
WHERE: Zeum Theatre, SF California
See Zeum Theater for location details.
WHEN: April 10-11, 8 p.m.
HOW: E-mail OMLOTR@gmail for up to 6 free tickets while supplies last
The press release about the show follows:
San Francisco Premiere of Charles Ross'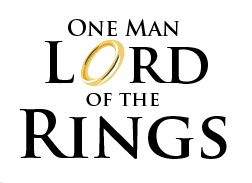 40 characters. 9 companions. 3 masterworks.
One Man (Charles Ross) recreates the enchanting world of Middle-earth with nothing more than elbow pads and his outrageous imagination in his latest spell-binding creation: THE ONE-MAN LORD OF THE RINGS.
Be prepared to journey through J.R.R. Tolkien Masterpieces: The Fellowship of the Ring, The Two Towers, and Return of the King in 3600 seconds of unbelievable kinetic entertainment! Booming special effects, riveting stage fights and harrowing rescues, the gifted performer does it all in this hilarious epic one man show.
Whether you've already seen the movies, read the books or named your first-born Frodo, Ross' zany take on Lord Of The Rings is right up your alley and sure to leave a lasting impression.
Selected as "Patron's Choice" for Best Play at the Toronto Fringe Festival, Ross received honor of Best Play at the Saskatoon Fringe Festival, and garnered five star reviews across North America. Vancouver's Georgia Straight touts the master-caricaturist as "A new star blazing on our theatrical firmament", while Spin Magazine proclaims: "Funnier than you could possibly imagine!"
One Man to do it all. One Man to rule them all!
The One-Man Lord Of The Rings is written and performed by Charles Ross, directed by TJ Dawe with lighting design provided by Mike Schaldmose.
BIOS
CHARLES ROSS (performer/writer)
Best known as the mastermind behind the infamous "One Man Star Wars Trilogy" and "One Man Lord of the Rings", Charles Ross is a Canadian actor who has followed his heart and taken his career global. Making a splash everywhere from Off-Broadway in New York City and London's West End to Dubai's resorts and Glastonbury Music Festival, Charles has been places. With stops in the USA, UAE, Australia, Northern and Southern Ireland, Singapore, New Zealand and 100+ cities across the UK, Charles has made quite a name for himself – even garnering praise from the likes of Vin Diesel and Sir Ian McKellen.
For now, Ross resides in Geek Heaven and there's no better place to be.
TJ DAWE (director)
Friend and director, TJ Dawe, has been there to help make these shows a reality. A Vancouver-based writer and performer, TJ Dawe has toured the Fringe festival circuits numerous times ad toured extensively throughout North America and Australia. He received a Jessie Richardson Award for Best New Play or Musical in 1998 for Tired Clichés. In 2001, Dawe received the "Just For Laughs" Comedy Award for The Slipknot. Dawe was also the winner of the "Best Male Performer" award at the 2002 Orlando International Fringe Festival. Ross and Dawe continue to collaborate – they'd be crazy not to.