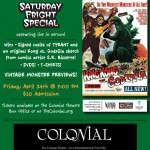 Mark Nelson, Editor/Screening Curator, Saturday Fright Special writes: I thought I'd pass along some info about the upcoming event that our NH-based horror host show (SATURDAY FRIGHT SPECIAL, seen on public access stations throughout the country) is putting on next month, shoud you or your readers be interested in attending, or in case you just want to help spread the word.
We'll be screening a 35 mm print from Universal of the 1962 classic KING KONG VS. GODZILLA on Friday, April 24 at the historic Colonial Theatre in Keene, NH at 7PM. It will be a family-friendly fearsome festivity for all. What is especially exciting about this is that the print that we are screening is BRAND NEW (struck by Universal Pictures specifically for this event) and has never been touched or screened before. In addition to the main feature, we'll be screening vintage monster movie previews, costumed characters from SATURDAY FRIGHT SPECIAL will be giving away DVDs and T-shirts, and overall creating a retro-fun night in the theater.
Legendary comic artist Steve Bissette is not only helping us promote The Spooktacular, he will be donating SIX sets of signed copies of his critically acclaimed, dinosaur-themed title TYRANT, and an original KING KONG vs GODZILLA sketch done just for us.
We're hoping that monster fans will flock to Keene to have a city-stompin', building-bashin' good time with us at The Spooktacular.
If you'd like a high-res PDF version of our flyer to print and post in your store, let me know and I'll send one along. Any kind of promotion will help us continue to do things like this and bring the joy of SFS and retro monster movie mania to the world.
Tickets will be $10 and available either at the door or via the Colonial's website.
Hope to see you there if possible and please feel free to help us spread the word in whatever fashion you can. If you have any questions, please don't hesitate to contact me.