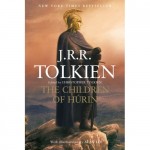 The folks from Houghton Mifflin sent us along review copies of 'The Children of Hurin' paperback and the reprinted edition of 'Tales from a Perilous Realm', now featuring artwork by Alan Lee!
The Children of Húrin from Amazon: The first complete book by J.R.R. Tolkien in three decades–since the publication of The Silmarillion in 1977–The Children of Húrin reunites fans of The Hobbit and The Lord of the Rings with Elves and Men, dragons and Dwarves, Eagles and Orcs. Presented for the first time as a complete, standalone story, this stirring narrative will appeal to casual fans and expert readers alike, returning them to the rich landscape and characters unique to Tolkien.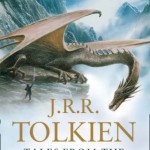 Tales from the Perilous Realm: The definitive collection of Tolkien's classic "fairie" tales, in the vein of The Hobbit, illustrated by Oscar winner Alan Lee.
Never before published in a single volume, Tolkien's four novellas (Farmer Giles of Ham, Leaf by Niggle, Smith of Wootton Major, and Roverandom) and one book of poems (The Adventures of Tom Bombadil) are gathered together for the first time, in a fully illustrated volume. This new, definitive collection of works — which had appeared separately, in various formats, between 1949 and 1998 — comes with a brand-new foreword and endmatter, and with a series of detailed pencil illustrations by Alan Lee, in the style of his other award-winning Tolkien work, most recently in The Children of Húrin.
The book is the perfect opportunity for fans of Middle-earth to enjoy some of Tolkien's often overlooked yet most creative storytelling. With dragons and sand sorcerers, sea monsters and hobbits, knights and dwarves, this collection contains all the classic elements for Tolkien buffs of all ages.