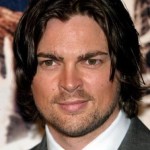 The man who brought us Eomer last night picked up a Best Supporting Actor award at New Zealand's Qantas Film and Television Awards for his role as policeman Nick Harvey in the movie Out of the Blue:
The gripping re-telling of the 1990 Aramoana massacre, Out of the Blue, swept the movie section of the awards, picking up six awards including best picture.
Matthew Sutherland and Karl Urban picked up the awards for best actor and supporting actor for their roles in the popular movie.
Thanks to stuff.co.nz for the news!