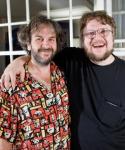 Forummer Sunflower has pointed us to this USA Today article, which contains interesting information. According to USA Today:
Del Toro will write the first film's screenplay. Jackson, his filmmaking partner-wife, Fran Walsh, and their writing partner, Philippa Boyens, will work on the second. Then they plan to switch and rewrite each other.
This is the first time this format is mentioned, and it should be taken cautiously until Guillermo del Toro confirms it here in TheOneRing.net forums.
UPDATE: GDT tells us the screenwriting team will "initiate the process in parallel and then we would rewrite each other." Follow the "Discuss" link below to find out what else he had to say.