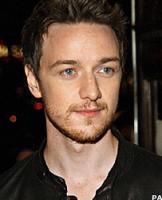 James McAvoy is a popular interviewee these days thanks to his upcoming movie WANTED (Universal Studios). And, of course, the interviewers can't resist asking him about the recent rumors that he's a favored to play Bilbo in "The Hobbit." In recent interviews with IESB.net and the BBC, McAvoy continued to deny the rumors. Plus, the 'A-list' actor has indicated that he intends to take some time off from acting. From the BBC interview:
The 29-year-old was concerned the jobs were starting to rack up for years to come: "That was almost a possibility. "It was getting to the point where that was happening and I had to put an end to it."
At the risk of starting yet another rumor: could he be keeping his options open for a certain role?

In an excerpt from the BBC article: "The critically acclaimed actor has said he just needs to get away. He added: "I'm going to not act for a little while and take some space and take some time – and make some 'me' time, you know, all that rubbish." Small wonder he might feel that way. The talented actor from Glasgow has been working non-stop in both film and television since the late 90s. His recent successes in films like "Atonement," "The Last King of Scotland" and "The Chronicles of Narnia: The Lion, the Witch and the Wardrobe" have understandably put him in great demand in Hollywood.
Could that demand translate into a role as Bilbo in the upcoming Hobbit? His fans continue to hope so even as he continues to deny it. From a recent interview with IESB.net:
IESB: Can you confirm or deny The Hobbit?
JM: I can completely deny it. It just seems to have all been rumors.
IESB: Nobody talked to you?
JM: No, not at all. Neither Peter Jackson nor Guillermo Del Toro have got in contact.
IESB: Would you want to play Bilbo?
JM: I think I'd need to see the script first. From what I hear them saying, they don't even have a script. So you'd have to see if you're right for the part, although I'm sure if I was wrong for the part, they wouldn't even bother asking so who knows. We'll see.
Is he right for the part? Many people think so. In his role as Wesley Gibson in WANTED, McAvoy plays a nobody who gets pulled into a world of action and adventure. While the similarities definitely end there, his ability to play Bilbo, a Hobbit living quietly in The Shire only to be propelled into countless adventures and perils isn't exactly a stretch.
However, we'll likely have to continue to wait and see. As McAvoy pointed out, until there's a script it's unlikely any serious casting will get underway. Guillermo Del Toro confirmed this here on TORn in recent comments on our message boards: "we will not choose casting until after we finish the scripts. Period." That said, the roles of Ian McKellen as Gandalf and Andy Serkis as Gollum have been confirmed. Would a role as important as that of Bilbo be confirmed before the scripts are done? Stay tuned here at TORn for the latest!
WANTED opens in theaters on June 27. The full IESB interview can be found here and the BBC article can be found here. Thanks to message board member Empedocles for posting the IESB interview on the boards.