TORn Feature on 'Fictional Frontiers' Radio Show
June 6, 2008

at

7:42 pm by Calisuri
-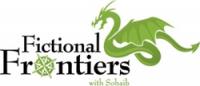 As many of you know, TheOneRing.net has been contributing bi-weekly Tolkien updates for 'To Be Continued… with Sohaib and Stuart,' a pop culture show on WNJC 1360 AM, Philadephia. For a variety of reasons, not the least of which was the content of the show before 'To Be Continued…,' TheOneRing.net will now be providing that same segment on a new show called 'Fictional Frontiers with Sohaib,' featuring host the very same Sohaib Awan. This show will air in a more family friendly time slot, 11AM-NOON ET on the same station, WNJC 1360 AM, Philadephia. The first show will be this week and we hope you can join us for some interesting talk about Tolkien, The Hobbit, maybe some prizes and more! As always, the show will be streamed live for those of you who live outside Philadelphia. [Fictional Frontiers] [Netcast]
Click the link below for the full release about this exciting new show!
---
Fictional Frontiers with Sohaib
Live Talk about the Worlds of Comic Books, Film, and Popular Culture
Delanco, NJ (May 22, 2008) – Is Guillermo Del Toro really the best candidate to film Tolkien's The Hobbit? Do you believe the ongoing Batman titles are well written, or the product of creative mismanagement? Why is the movie industry seemingly dying? Are the writers of Lost making up the story as they move along? Are we seeing a golden era of animation with respect to Pixar's efforts?
If you bandy about these questions with your friends and family than Fictional Frontiers with Sohaib is the program for you. Launching June 8, 2008 on WNJC 1360AM Radio – Philadelphia, Fictional Frontiers is a live one-hour journey through the comic/novel, film, and television universes. Seeking caller opinions, host Sohaib Awan will engage listeners in one-on-one debates and discussions. In addition, Fictional Frontiers will tap into its reservoir of industry guests for insights into upcoming trends and projects. Fictional Frontiers will cover:
Television and Live/Animated Films:
Fictional Frontiers will provide news and reviews on television and live/animated cinema. We will discuss the upcoming efforts of masters in the industry like Peter Jackson, Martin Scorsese, and Steven Spielberg. Ever mindful of the past, we will look back at the classics and legendary actors of yesteryear. Interested in Wall-E and The Incredible Hulk.? Looking forward to the ongoing storylines of Lost, Heroes, and The Sarah Connor Chronicles? Fictional Frontiers is the program where any and all of these topics are open for discussion.
The Comic Industry:
Fictional Frontiers will talk with and about writers, artists, and editors from leaders and independents from around the industry. While discussing conventions, television, and film adaptations, we will highlight the ongoing efforts of Marvel, D.C., Dark Horse, IDW, and other major players in the field. Fictional Frontiers will be your essential weekly snapshot of the comic book universe.
Pop Culture-Potpourri:
Popular culture exists as an extension of issues involved with everyday life. From time to time, Fictional Frontiers expands the debate/discussion to cover these topics. Listeners will be given the opportunity to voice their feelings, in a format conducive to debate. In addition, educators will have the opportunity to learn about the real stories behind some of history's most important and popular works of fiction.
Fictional Frontiers with Sohaib (11:00 AM each and every Sunday with live netcast at www.wnjc1360.com) is the voice of the region's fans of popular culture.
---
Note: Sohaib I. Awan is the founder and managing partner of the Law Offices of Sohaib I. Awan. In 1993, he received his Bachelor of Arts from the University of Richmond with a degree in Political Science. He received his Juris Doctorate from Rutgers-Camden in 1996. In addition, he received Management Certification from the Wharton School of Business (University of Pennsylvania) in 2001.
Mr. Awan is an active member in good standing of the District of Columbia Bar. He is duly qualified and admitted as an attorney and counselor of the District of Columbia Court of Appeals.
Mr. Awan is an active member of the American Immigration Lawyer's Association (AILA).
He also completed mediation and conflict resolution training at the Community Mediation Center of Harrisonburg, Virginia. He has appeared as a guest on several episodes of the Bridges TV series "Predominantly Legal" (hosted by Sharon Stiller).
Mr. Awan is co-host of To Be Continued…with Sohaib and Stuart, broadcast live on WNJC 1360AM Radio-Philadelphia. In addition, he is the host of Passing Shots with Sohaib, also broadcast live on WNJC 1360AM Radio-Philadelphia.
Mr. Awan is, for lack of a better phrase, a true film and fiction buff.
Posted in Events, Fans, Miscellaneous, TheOneRing.net Announcements, TheOneRing.net Community on June 6, 2008 by Calisuri

Source: Fictional Frontiers TORn Feature on 'Fictional Frontiers' Radio Show | Discuss