Tickets on sale Now!
January 8, 2003

at

2:53 pm by Calisuri
-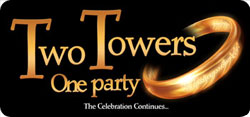 Tickets are on sale now! Jump to our 'Two Towers – One Party' website to reserve your attendance at the most glamorous Tolkien event of the year! [
More
]
Some folks have been emailing asking for an update on ticket sales. In the first half hour, 200 tickets were sold. This night is going to be something special!
Posted in Old Main News on January 8, 2003 by Calisuri