Welcome Dagorhir.org!
February 25, 2001

at

5:22 pm by Calisuri
-
TheOneRing.net™ is proud to announce another new member of its Fan Community.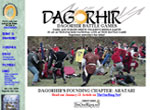 You've read Lord of the Rings. Dagorhir Battle Games lives it! Tolkien's Middle-earth meets Dark Age Europe in this safe, live-action, action-packed, nationwide war gaming society. Why dream the life when you can live the dream? Join yesterday's fun today!
Posted in Old Main News on February 25, 2001 by Calisuri