Welcome Elfenomeno.com!
February 20, 2001

at

1:04 pm by Calisuri
-
TheOneRing.net Fan Community is proud to welcome Elfenomeno.com!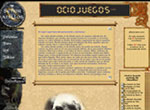 This premiere LotR Spanish site has everything you could want from a LotR movie site; A great design and wonderful content makes it the best place to go for spanish LotR news. Be sure to drop by and welcome them to our community.
[ Visit Elfenomeno.com ]
Posted in Old Main News on February 20, 2001 by Calisuri