Welcome Pelennor.com!
October 25, 2000

at

3:34 pm by Calisuri
-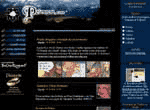 TheOneRing.net™ is proud to announce a new member of TheOneRing.net™ Community: Pelennor.com. Here you'll find everything you always wanted to know about the LoTR movie trilogy, along with the most complete Tolkien bibliography, chat, RPG, picture galleries, essays and much more! In Portuguese!
So drop on by this wonderful site and say hello to Dune and his crew.
Posted in Old Main News on October 25, 2000 by Calisuri