Welcome Midden Aarde!
December 9, 1999

at

11:26 pm by Calisuri
-
TheOneRing.netª staff would like to take this opportunity to welcome Midden Aarde (http://fan.theonering.net/middenaarde), a completely Dutch language LOTR movie site, to TheOneRing.netª Community!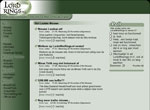 Welcome aboard! If you are interested in taking advantage of the free server space here at TheOneRing.netª, please check out the Community section to see if your site can met the criteria!
ps – Happy Holidays to everyone! Notice the holiday lights?..:)
Posted in Old Main News on December 9, 1999 by Calisuri