Newsweek:  J.R.R. Tolkien – Celebrating the Professor's Greatest Creations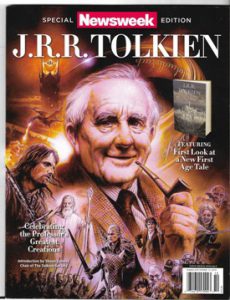 [Media Lab Publishing] is on newsstands and store check-out lanes now.
This is a beautiful, high-quality, glossy 100-page issue full of articles, information on both books and films, and many full-page photos.  A wonderful collectible opening with an introduction by Shaun Gunner, Chair of the Tolkien Society.
This special edition look at the works of J.R.R. Tolkien book-by-book:
The Hobbit
The Fellowship of the Ring
The Two Towers
The Return of the King
The Silmarillion
The Children of Húrin
Unfinished Tales
Beren and Lúthien
The Fall of Gondolin
The Letters of J.R.R. Tolkien
The Story of Kullervo [newest release]
The short descriptions of the books are accompanied by a variety articles ranging from book cover artwork to meaningful lines from the films.
The issue is also laced with several interesting interviews and articles such as:
The Ring Bearers: Tracing the history of every ring of power in Arda in a family tree format.
Creating the First Age is an interview with Ted Nasmith discussing his ambitious Tolkien projects and what it takes to visualize Middle-earth.
The Saga's Breakout Star is an interview with Andy Serkis talking about Middle-earth, Gollum and his thoughts about Amazon's upcoming Tolkien project.
A Tale for the Ages: The major events shaping the world of Middle-earth is a 4-page review of the ages displayed in individual sections.
Shaping His World is an article by Tom Shippey looks at what inspired Professor Tolkien in his creation of Middle-earth.
…and many more.
This Special Edition will be on display at stores until October 13, 2018.