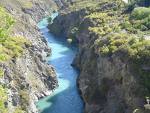 Aaron writes: I have put forward a Naming Proposal to the NZ Geographic Board to name a stretch of the Upper Waiau River between Lakes Manapouri and Te Anau as "Anduin Reach". This section was not only featured strongly in the Fellowship of the Ring but it is now a tourist attraction as well, soon to be more popular as a new Cycle Trail is destined to run down it's bank. I need some assistance from the public in the form of feedback as part of the new naming procedure so I thought I should ask your team what they think. The "reach" is a two km (1.25 miles) straight stretch of river down stream of Boulder Reach 6km North of Manapouri Township. All I need is some public feed back to forward to the Geographic Board so they know that people value the need for a name.
It is said if you give a story a place name it lives in the real world and I think the Anduin Reach has got a fighting chance to earn a real place in New Zealand's folklore. If any one else wants to add to this submission just comment at 2359510@gmail.com or on my YouTube Video Scrapbook Page.
I had been working to restore some Tolkien place names in Fiordland a few years back but was attacked by the press who where incensed by the very thought of it! They totally killed any chance they had.