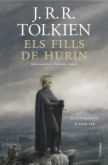 The folks from Houghton Mifflin write: I saw your recent posting about Alan Lee attending FaerieCon in Philadelphia, and I wanted to spread the word that Alan will be visiting a few other U.S. cities to promote THE CHILDREN OF HURIN paperback (national release date: October 14) and the brand-new TALES FROM THE PERILOUS REALM, immediately following his FaerieCon appearance!
As TORn readers know, THE CHILDREN OF HURIN is the first complete book by J.R.R. Tolkien since the 1977 publication of The Silmarillion. It was a #1 New York Times bestseller in hardcover, and the Associated Press called it "the book for which [Tolkien] readers have been longing." The paperback edition of THE CHILDREN OF HURIN includes eight color paintings by Alan Lee and a two-color fold-out map.
TALES FROM THE PERILOUS REALM is the definitive collection of Tolkien's classic "fairie" tales. Never before published in a single volume, Tolkien's four novellas (Farmer Giles of Ham, Leaf by Niggle, Smith of Wootton Major, and Roverandom) and one book of poems (The Adventures of Tom Bombadil), are collected together for the first time, in a fully illustrated volume. This new, definitive collection of works–which had appeared separately, in various formats, between 1949 and 1998–comes with a brand-new foreword and endmatter, and with a series of detailed pencil illustrations by Alan Lee, in the style of his other award-winning Tolkien work.
Here's Alan's appearance schedule:
Tuesday, October 14, 6:00 PM
Barnes & Noble
2289 Broadway @ 82nd St.
New York, NY 10024
212-362-8835
Wednesday, October 15, 7:30 PM
Tattered Cover
1628 16th Street
Denver, CO 80202
303-436-1070
Thursday, October 16, 6:00 PM
Book Passage
in the San Francisco Ferry Building
1 Ferry Building #42
San Francisco, CA 94111
415-835-1020