Rolozo Tolkien Jumps In!
November 16, 1999

at

9:15 am by xoanon
-
In my opinion, the best image archive site Rolozo Tolkien has become part of TheOneRing.netª Community!! Rolozo is literally THE biggest image archive site on the net. With a list of many known and unknown artists whos love for Tolkien has been expressed with colors and images.
Check out our latest addition to TheOneRing.netª here.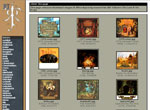 Posted in Old Main News on November 16, 1999 by xoanon